10 Reasons You Should Choose A Primary Care Specialist
---
Home / Primary Care / 10 Reasons You Should Choose A Primary Care Specialist
December 22, 2022 | Category : Primary Care | Author: North Hills Urgent Care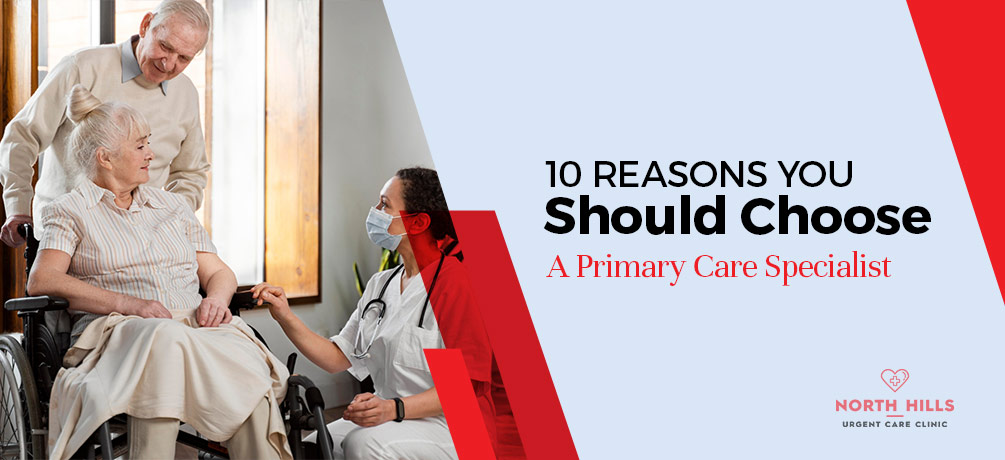 A primary care provider plays a significant role in your health and well-being. That is why it is essential to have one despite your health status or age. You will always live a healthier and longer life if you have a primary care physician who is always available. You will also spend less treating illnesses that occur once in a while. Annual checkups, immigration, and blood tests are among the health care services we offer, besides offering preventative care. Once diagnostic tests are done, help patients manage their chronic diseases, which include hypertension, heart disease, and diabetes. You will need primary care specialists' health care services whenever you face health complications or issues.
What is a primary care physician?
When you are feeling under the weather due to a health issue, the first thing you will do is contact our primary care physician. Primary care specialists will help you get well by diagnosing and treating your medical problem based on the symptoms. This responsibility used to belong to a family doctor or a generalist. Nowadays, various healthcare professionals are well-trained to address primary issues that may arise. A primary care physician plays a significant role in your health. Therefore, looking for a trustworthy doctor with whom you feel comfortable sharing your health issues is essential.
Also, you can read: Making sense of antibody tests after covid vaccination
What services does a primary care physician offer?
Regular wellness checks are just one of the duties of our primary care physicians (PCPs). These health professionals have undergone extensive medical training to cater to all medical and healthcare issues that may arise. Your relationship with your doctor is often strengthened by understanding the importance of primary care.
Preventive services
One of the tasks of a health care specialist is to offer disease prevention services that help you to avoid various diseases and illnesses.
Proper disease diagnosis
Primary care specialists at our clinic can conduct lab tests and perform physical exams on patients who require medical attention. This helps to diagnose various illnesses and diseases.
Ongoing care for common illnesses
North Hills Urgent Care also has doctors who don't just diagnose but also offer continuous monitoring of the patient once they have identified the disease or illness. A primary care visit provides numerous medical benefits.
Chronic diseases management
With the help of other medical and healthcare specialists, our primary care specialists can help patients to manage chronic medical conditions such as arthritis, diabetes, cancer, and chronic health problems. The work of a medical specialist is to keep our primary care physicians updated all the time about the patient's medication and healing progress.
Annual checkups
Our primary care physicians also conduct yearly health checkups. These checkups become more critical as we get older. Our doctors are also familiar with the patient's medical history, which helps to determine which disease the patient is prone to.
Common age-related conditions screening
Screening for primary common age-related health issues among the work of medical professionals at North Hills Urgent Care Clinic. These medical conditions include diabetes, high blood, cancer, and osteoporosis.
Personalized Care
Doctors at NHUC offer a personal primary care relationship with patients. Knowing more about the patient at an individual level helps patients share health information more vividly. They can report any private medical concerns you may have that are not of standard parameters. The care needed is established by carefully and extensively analyzing the patient's symptoms, which will determine if the medical condition requires a medical specialist. Our PCP aims to deliver proper and effective health care to all patients. An ongoing relationship with your primary physician is meaningful because it helps the doctor develop tailored health care to suit your health care needs.
Better Health Management
Physician primary care pediatrics ensure that your child's health is always on point. The quality of life is highly improved when you seek medical attention from a primary care physician to help manage various healthcare needs. The quality of life is highly improved because doctors will catch health concerns before they escalate into serious health complications. Our doctors will also provide information about health trends such as dieting and exercising. They will understand your family health history and other health issues.
Lower Health Care Costs
Once you seek medical care services from our primary care physician, you will incur low medical costs. Going for regular physical therapy allows doctors to detect early signs of underlying medical conditions. Pap smear tests, for example, are tests done to detect cervical cancer and other abnormal cells in the cervix. When detected early, it is much easier to defeat cancer at its early stages. PCPs can, after that, devise an effective treatment plan.
Regular Routine Screenings
Physicians medical care do annual blood work to check various essential aspects of your health, including blood sugar and cholesterol.
Improved Communication
North Hills Urgent Care Clinic gives certified primary care specialists who are well-trained to communicate easily with their patients to ensure that medical services are carried on smoothly. This means the patient should be comfortable sharing symptoms with her provider's care physician. It also allows the doctor to explain the treatment plan more vividly to the patient. The patient can also easily follow the doctor's instructions.
Why do you need a trustworthy doctor?
The relationship between you and your doctor is critical to get proper, quality health care. That is why you need to maintain a good relationship with your doctor. A good connection with your doctor allows you to nurture a good relationship built on trust, understanding, and humility.
How to find the right doctor for you
Our primary care physician will always ensure that your health care needs are always catered to. They are the go-to resource for all your health and medical conditions. Primary care physicians are there to educate, advise, diagnose, and offer proper treatment plans for various health concerns. Primary care specialists help you make a suitable decision that ensures your health.
Which doctors are in our network?
The best way to cut medical and healthcare costs is to find a healthcare plan that covers primary care physicians, which is an ideal decision when looking for a medical insurance provider.
Is the prospective medical professional an expert in your health concerns?
Whenever you are looking for a primary care physician to cater to your health care needs, choosing a doctor who is well conversant with your health or medical concerns is a good idea. The physician should be highly trained to address all your medical problems. Always go for a primary care physician who is board-certified in your locality.
Is the staff friendly and professional?
Engaging with the staff will happen regularly, which involves resolving billing issues, making appointments, and asking for refills. In this case, you need to look for a medical facility with a friendly staff willing to make sure that all these medical processes go on smoothly. The team should be courteous and patient when dealing with all kinds of patients who have come to seek medical attention. Look for a staff that respects your name, pronoun choice, privacy, and other boundaries. The team should also be helpful when facilitating contact between you and your doctor.
To Provide Access to Specialists
Our primary care specialists are always reliable when offering referrals to medical specialists and providing easy access to affordable and proper health care. Depending on your medical condition, we can refer you to medical experts such as oncologists, neurologists, or cardiologists. If a specialist requires extra information about your medical history, our primary care physician will gladly provide it.
Conclusion
The main purpose of having reliable primary care specialists is to ensure that you are always healthy by addressing all your medical concerns properly. Regular physical checkups make you aware of what is happening with your health, which helps you take preventive measures and seek proper and effective treatment plans that ensure your well-being. Once you have established a good relationship with your primary care physician, detecting health care issues in your body will be seamless. Always go for a physician who understands and can address all your medical and health care concerns.
If you have any questions about our urgent care services, please do not hesitate to contact us at (818) 839-5666 or Schedule an Appointment.