Primary Care Physician in North Hills Urgent Care
---
Home / Primary Care / Primary Care Physician in North Hills Urgent Care
July 01, 2022 | Category : Primary Care | Author: North Hills Urgent Care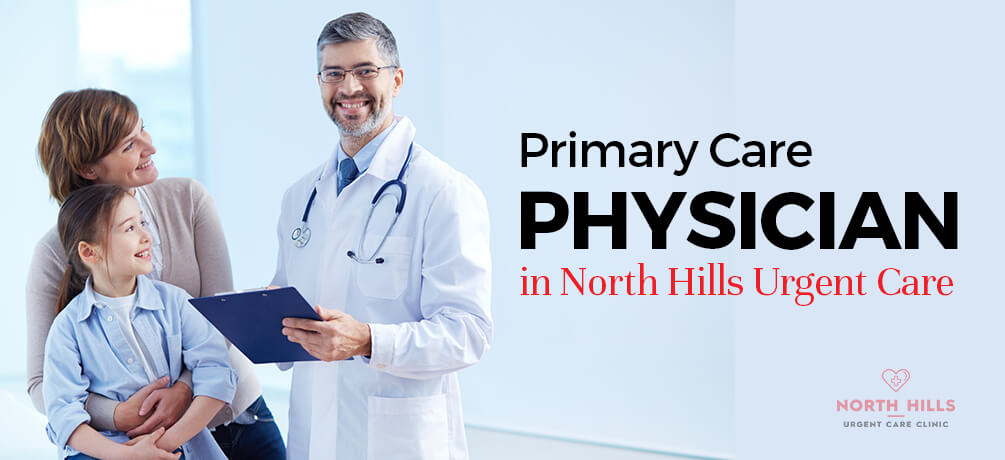 A North Hills primary care physician is a highly skilled medical professional specifically trained to offer first contact or to continue health care services to patients. A physician primary care in north hills can deal with health care issues regardless of their cause, diagnosis, or organ system.
A personal physician performs and manages primary care. Besides that, primary care practice involves counseling, disease prevention, health promotion, and health maintenance. A primary physician can also educate, diagnose, and treat chronic and acute medical conditions in various health settings.
Definition Of A Primary Care?
Primary care is established to achieve better care, health, and affordable rates. Primary care involves providing accessible and integrated health care services. A north hills primary care physician provides these services. Primary care physicians work is to develop a sustained partnership with patients, address a wide range of health concerns, and practice in the context of family and community. This type of care is community-aligned, team-based, and person-centred.
Working Of A Primary Care Physicians?
Primary care physicians can work in a various health care setting such as:
Outpatient and inpatient hospital settings
Private or group practices
medical clinics
long-term care facilities
You should expect to access a wide range of health care services when visiting a primary care doctor north hills. To help you understand better the duties of a North Hills primary care physician, we have outlined various services offered by a primary care physician.
Wellness and prevention screening
A primary care provider in North Hills often performs these medical duties:
Diabetes screening
Immunizations
Medical prescription
Cancer screening
Birth control services
Wound care
Ultrasounds
Cardiovascular health screenings
Health care counselling
Casting, splinting and bracing
Suturing wounds and performing minor surgical procedures
Acute illness and injury care
When you choose to seek medical attention from your primary care doctor north hills due to sickness, injury or concerning symptoms, he or she will:
Diagnose the medical condition by performing lab tests
Come up with a suitable treatment plan for your medical condition
Analyse treatment interactions with other medications that the patient on
Evaluate heart performance by conducting an EKG (electrocardiogram) test
Assess how your lungs are functioning by performing spirometry tests
Come up with effective treatment plans for acute medical conditions such as migraine attacks, asthma attacks, or urinary tract infections.
Provide wound care
Help patients manage fever or dehydration
Check for broken bones by conducting preliminary tests
Brace, splint, it cast injured limbs
Develop treatment plans for minor bites, rashes, skin infections, and muscle strains or sprains
Checks whether your medical condition requires a specialist
Links patients with mental health resources in their community
Chronic conditions
Patients with long-term or chronic health conditions can count on primary care physicians in north hills to:
Check and evaluate drug interactions in case you have multiple medical conditions
Coordinate care with specialists
Monitors treatment progress by conducting necessary treatment processes
Put up a self-care plan that includes proper diet and exercise
Direct or link you to various resources that will help improve your medical condition
Also, you can read Making sense of antibody tests after covid vaccination
What to consider when picking a primary care doctor?
A primary care physician's role in improving your health is quite significant. That is why you have to be very observant when choosing one. He or she has to be trustworthy, discrete, and reliable. If you haven't yet found a doctor, North Hills Urgent Care is the best option for affordable and reliable health care services.
To get the best primary care doctor north hills, these are some of the critical matters that you need to put into consideration:
Insurance
When finding a good and reputable primary care provider in North Hills, your health insurance plan offers a great starting point.
Location
You also must consider the distance between the doctor's or clinic and your home or office. Try to gauge how long it will take to drive or walk to your primary care provider before choosing.
Hours
Is your work or your child's school schedule compatible with the doctor's working hours? You should also check if the office has evening, weekend, or on-call services if you need them.
Language
Choose a doctor who understands your language, and you can communicate well with them when seeking medical advice, treatment, and consultation.
Online access
You should also consider whether the primary care team offers options for telemedicine. They should be able to use an online portal that allows you to schedule appointments, access your health history, ask your doctor questions, schedule appointments, and see your test results.
Policies
What happens when you reschedule or cancel your appointment? What if you want to do an expensive medical procedure not covered by your health insurance providers? Do day offers financing or a flexible payment plan.
Conclusion
Primary care providers choose to provide specialized care targeting a certain age group in a population. This can either be the elderly or children. Contact our North Hills Primary Care Physician to know whether we offer the health care services you are looking for.
If you have any questions about our urgent care services, please do not hesitate to contact us (818) 839-5666 or Schedule an Appointment