Antibody Test Types and Which One Should I Choose?
---
Home / Antibody Testing / Antibody Test Types and Which One Should I Choose?
September 06, 2022 | Category : Antibody Testing | Author: North Hills Urgent Care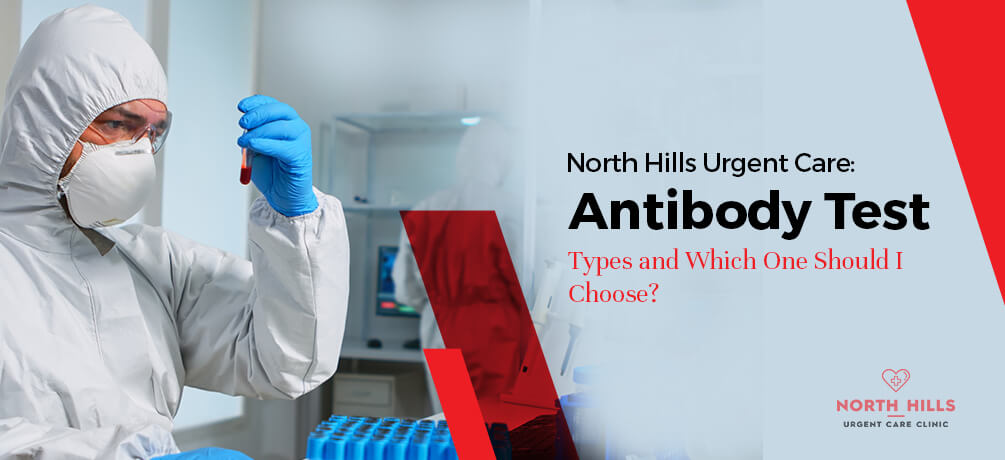 A covid antibody test in North Hills is an advanced type of test performed to find out whether a person contracted SARS-CoV-2 in the past. Also known as a serology test, the aim of carrying out a Covid-19 antibody test is not to detect the presence of the virus in the body. Since there are various types of antibodies, it's important to understand how antibody test types work. After getting vaccinated against COVID-19, some antibody tests will show that you have antibodies in your blood. Testing positive for antibodies does not necessarily mean that you've developed immunity against COVID-19.
Proteins formed in the body to respond to infection are known as antibodies. Opting for antibody testing a few days after a Covid-19 infection is not advisable because it won't produce accurate results. Typically, it takes two to three weeks after infection for the body to develop enough antibodies to be detected by a covid antibody test in North Hills Urgent Care Clinic.
What are the types of antibodies?
Different antibodies are detected by different serology tests. The body can create 5 different types of antibodies. They include:
Immunoglobulin A (IgA).
Immunoglobulin E (IgE).
Immunoglobulin D (IgD).
Immunoglobulin G (IgG).
Immunoglobulin M (IgM)
To understand how the COVID-19 antibody test works in North Hills Urgent Care, Antibody testing performed at North Hills Urgent Care Clinic is done to detect IgG and IgM antibodies. The type of antibodies that will form almost immediately after an infection is IgM antibodies. These types of antibodies also disappear quickly in the blood. An antibody test can hardly detect these types of antibodies. It takes about 7 to 10 days after infection for the body to develop an IgA antibody. Getting a COVID-19 antibody test in North Hills weeks or even months after Covid-19 infection may help to detect IgG antibodies since they last longer in the blood.
See More: Primary Care Physician in North Hills Urgent Care
Types of antibody testing provided by North Hills Urgent Care?
Our doctor uses varying aspects to understand the adaptive responses of antibodies in the immune system. Traditional and Rapid antibody tests are the two main categories of Covid-19 antibody tests.
COVID-19 Rapid Antibody Detection Test
This type of covid antibody test is typically qualitative, which means it can either produce a negative result. It is easier to carry around since it is small and portable, making it convenient. Covid-19 rapid antibody testing is often done at North Hills Urgent Care. Nasal swab fluids, blood from finger picks, or saliva samples from the patient are used to perform this type of antibody test. When it comes to COVID-19, patients with viral antigens, IgG, or IgM antibodies often undergo this COVID-19 antibody test. It is recommended most of the time to check the baseline (before infection) of IgM or IgG titers. One of the advantages of a Rapid test is that it produces quick and accurate results.
COVID-19 Traditional Antibody Test
Getting a traditional COVID-19 antibody test is the simplest way to find out whether antibodies formed after COVID-19 infection. The test is done in the laboratory after drawing a sample of blood from the patient's veins. Getting a traditional COVID-19 antibody test in North Hills takes around 1 to 5 days to get the antibody test results. However, these types of tests are often accurate and precise when performed at North Hills Urgent Care.
Some considerations when selecting antibody tests include
Compared to other types of antibodies, IgG antibodies tend to diminish slowly in the body. This means that during the time between the infection and antibody testing, higher sensitivity may be realised in assays that measure total antibody or IgG.
After an infection, IgM antibodies can stay longer (weeks or months) in the blood but not longer than IgG antibodies. This means that if the antibody test detects the presence of IgM antibiotics, it means that the patient was infected recently.
The persistence of detectable antibodies could vary by the test used.
Why is Antibody Testing done?
At North Hills Urgent Care Clinic, you may need to get a COVID-19 antibody test if:
If you were not tested for COVID-19 in the past despite having related symptoms.
If you took a Covid-19 diagnostic test and the result turned out to be positive
You were previously infected with COVID-19, and you want to donate your plasma to help treat patients who have severe COVID-19 symptoms. Plasma is a part of blood that contains antibodies.
A doctor may request an antibody test if he or she suspects that the child is suffering from multisystem inflammatory syndrome for children (MIS-C).
Children who suffer from MIS-C often have antibodies to COVID-19. This means that they contracted Covid-19 previously. You can contact our doctor if you want to get reliable antibody testing in North Hills Urgent Care. You can also ask how much is an antibody test.
Results of Antibody Tests
Once you get tested for antibodies against COVID-19, these are the results that you should expect:
Positive - A positive test shows that antibodies have been detected in your blood. This means that you contracted Covid-19 in the past. Even if you did not experience any symptoms, the results might turn out to be positive. This means that you are an asymptomatic patient. Sometimes, you may get false-positive results if the antibodies detected were not against COVID-19 but another type of coronavirus.
Negative – Results may also turn out to be negative. This means that the test did not detect any form of antibodies against COVID-19 in your blood. It also means that you were never infected with COVID-19 in the first place. Getting an antibody test may also give a false negative if an antibody test was conducted before antibodies started forming. In other cases, the results may be flawed.
Why Visit At North Hills Urgent Care For Antibody Testing?
North Hills Urgent Care Clinic is a preferable choice of health care facility because our clinic offers quick and affordable healthcare services to patients who require time-sensitive care. Patients who are always on the will find this facility quite satisfying because of its convenience. If you require a North Hills Covid antibody test, you will get accurate and affordable services at North Hills Urgent Care. Regardless of what a patient is suffering from, North Hills Urgent Care treats and handles all patients with humility and compassion.
Conclusion
North Hills Urgent Care offers IgG and IgM antibody testing at reasonable rates. Our clinic offers both Rapid and conventional COVID-19 antibody tests. You will get proper healthcare that is worth your while without waiting for long. If you want to get accurate results from an antibody test, Rapid antibody testing is what you should go for. Our doctor carrying out this test will prick your finger to extract some blood for testing during a Rapid antibody testing. This helps to detect antibody proteins.
If you have any questions about our antibody testing, please do not hesitate to contact us at (818) 839-5666 or Schedule an Appointment.