Antibody Test Results: What Should I Expect
---
Home / Antibody Testing / Antibody Test Results: What Should I Expect
December 12, 2022 | Category : Antibody Testing | Author: North Hills Urgent Care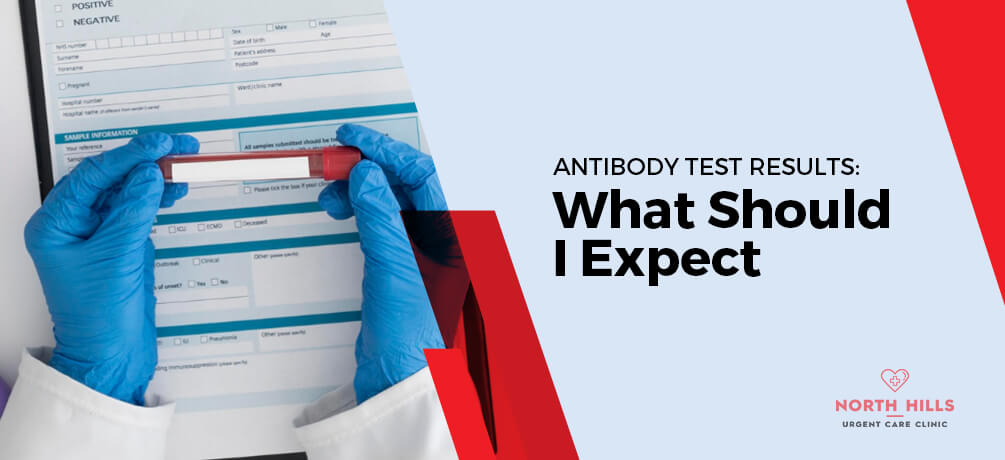 COVID-19 antibody testing is an advanced medical test designed to identify persons who had COVID-19 virus (SARS-CoV-2) in the past and recovered by forming antibodies. Another name for this test is serology testing. If a person has COVID-19, an antibody test for COVID will not detect it since it is only meant to detect antibodies against COVID-19 and not the virus itself. If you received COVID-19 vaccination, specific antibody tests would give positive results. However, the aim of getting an antibody test isn't to check whether you have established immunity against the SARS-CoV-2 virus.
Certain antibody types against the SARS-CoV-2 virus are detectable with various antibody tests. These antibody test types against COVID-19 include:
The binding antibody test for COVID is a commonly used test for detecting antibodies in the body of a person who previously had the SARS-CoV-2 virus. As much as they are effective antibody tests for detecting antibodies, they can't see how effective or extensive your immunity is.
The neutralizing COVID antibody test is a more advanced and relatively new antibody testing method not widely used so far. This type of test is designed to identify a subgroup of antibodies that make the virus inactive. A person may undergo this antibody test once the binding antibodies test turns out positive. It is often done to gauge the effectiveness of your antibodies. This helps protect your body from another COVID-19 attack by blocking the SARS-CoV-2 virus.
Why Take an Antibody Test?
Below are situations that will require you to get an antibody test for COVID:
You developed COVID-19 symptoms previously, but you were not tested
If you were diagnosed with COVID-19 in the past and you are about to undergo a medical procedure in a hospital
If your body contains antibodies, you can donate your plasma to COVID-19 patients with severe COVID-19.
Risks
Antibody tests are only sometimes accurate. It is therefore recommended that you get tested for antibodies way after recovery. You may also get inaccurate results if the antibody test is questionable.
The market is flooded with antibody tests from different manufacturers with little oversight. The FDA (Food and Drug Administration) has started posting data that outlines the performance of varying antibody tests.
Antibody testing is inaccurate and may sometimes show false-negative or false-positive results. So, what do false-negative and false-positive mean?
A positive antibody result means a person has developed antibodies from a previous COVID-19 infection. A false-positive means that even though the results turn out to be positive, there is no presence of antibodies in the blood. Which also means that you were not infected with COVID-19 in the past. Patients may think they develop a false sense of security, considering that the body is immune to COVID-19. Even though the results may be positive, no one is fully protected from COVID-19.
The false-negative results mean that the antibody test results have turned out to be negative, but in reality, the body has developed antibodies from the previous COVID-19 infection.
How you prepare
You will be given strict instructions on where to get tested for antibodies or where to have an antibody test. You must always wear a mask – when you are going or coming back from the testing facility. Anyone accompanying you to the antibody testing facility should also wear a mask.
What you can expect
When conducting an antibody test for COVID, the doctor will start by drawing some blood from the patient. A healthcare professional will do this by pricking the patient's finger. Blood samples can also be removed from the arm using a syringe. The blood sample will then be taken to a lab to determine if COVID-19 antibodies are present. In many testing facilities, the antibody testing results will be released on the same day. In other clinics, results may delay for days because blood samples are sent out of the lab for further analysis.
Results
Results from a COVID-19 antibody test results can either be:
If the results turn out to be positive, the blood contains antibodies. Which also shows that the person contracted COVID-19 in the past. The results may turn out positive even if no symptoms indicate that that person was infected with COVID-19. A false-positive antibody test result may show when the antibody test for COVID is flawed. The test may also detect antibodies that are closely related to antibodies against COVID-19.
If the test did not detect any antibodies, then the results would turn out to be negative. This also means that the person did not contract COVID-19 in the past. A false-negative result may come if the test was done in the early stages of the infection and antibodies were not fully developed. A false-negative may also occur if the test is flawed.
Research continues to establish whether COVID-19 antibodies provide immunity against the SARS-COV-2 virus. Having a COVID-19 test and getting a positive result does not mean that you have developed immunity against the SARS-COV-2 virus, which causes COVID-19. Researchers still need to determine the level of protection antibodies offer and how long they last in the blood once they develop.
A positive result does not guarantee protection against the virus. This means you still need to take precautions to avoid contracting Covid-19. Wearing a mask in public, maintaining social distancing, and washing hands more frequently are sure ways of protecting yourself against the virus. Doing this will help to prevent the virus from spreading.
Why Visit A North Hills Urgent Care for antibody testing?
The flexibility that comes from visiting urgent care centers is what makes these healthcare facilities better. North Hills urgent is the best option for patients who want superb and immediate health care delivery. Time-sensitive care is among the many benefits that North Hills Urgent Care Clinic offers patients.
Urgent care centers are the most suitable if your health care situation is not life-threatening. Our greatness comes from the fact that we offer high-quality medical care to all patients despite what they are suffering from or inflicted injuries. An urgent care clinic is the best alternative if you find it hard to reach out to your primary care provider. The cost of getting good health care services at this urgent care facility is also low compared to other medical care facilities such as emergency rooms. A Covid antibody test in North Hills is always accurate and reliable.
Conclusion
Taking the COVID-19 antibody test at North Hills Urgent Care is necessary if you previously contracted the virus. Taking a Covid antibody test has several benefits, which will help you establish whether you have developed antibodies against the virus. Reaching out to your primary care provider is crucial whether you require an antibody test for COVID or other health care services. The strength of antibodies against SARS-CoV-2 has yet to be established. We also don't know how long they last once they develop in the body. Therefore, a positive antibody test result does not mean that you are entirely immune from COVID-19.
If you have any questions about our urgent care services, please do not hesitate to contact us at (818) 839-5666 or Schedule an Appointment