Looking For a Primary Care Doctor In Los Angeles, CA?
---
Home / Primary Care / Looking For a Primary Care Doctor In Los Angeles, CA?
November 19, 2022 | Category : Primary Care | Author: North Hills Urgent Care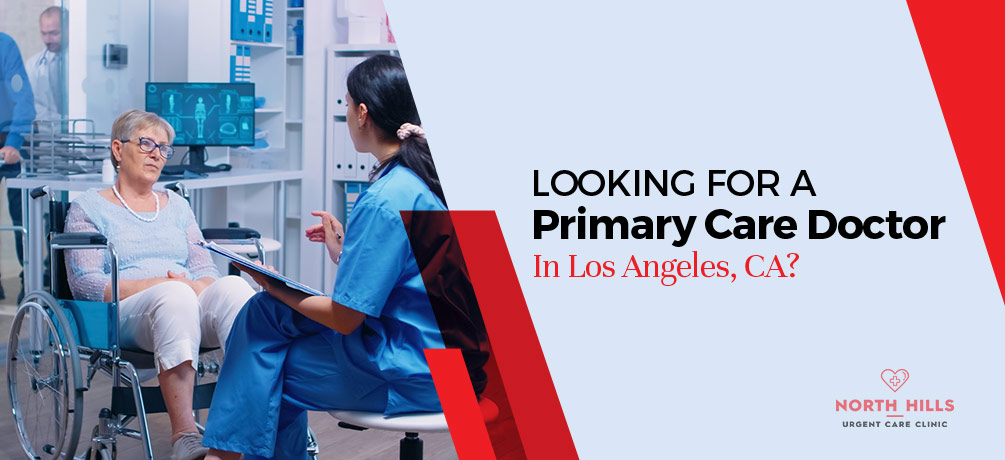 Whether moving to Los Angeles or just looking to switch doctors, finding a new primary care doctor is always challenging. You can get a head start by getting referrals from people you know and can trust, such as friends, family, and coworkers. It is up to you to choose the medical professional best suited to your condition. Find out where to look for a primary care doctor in Los Angeles now!
What Exactly is a Primary Care Physician?
A primary care physician is a specialist in general medicine who is qualified to assess patients, and treat them for, a wide range of medical issues. Primary care physicians treat a wide range of medical problems, from the short-term (such as a cold or the flu) to the long-term, such as diabetes mellitus.
Also, You can Read: 10 Reasons You Should Choose A Primary Care Specialist
What Do Primary Care Physicians Do?
Primary care doctors in West Los Angeles can work in a lot of different places, such as:
private or group practices in medicine
care homes for the elderly
outpatient hospital settings
inpatient hospital settings
You can get comprehensive medical treatment from your primary care physician.
Tips for Choosing a Primary Care Physician
Use these ideas to choose a primary care doctor in Los Angeles:
Find a PCP with Expertise that Meets Your Health Needs
Primary care physicians can come from various medical specialties, but family medicine, internal medicine, and general practice are the most common. Your child's primary care doctor should be a Pediatrician, a specialist in pediatric medicine.
Family Practice- All ages are cared for by family practice doctors, from infants to the elderly. These doctors have a wide range of expertise and can often handle illnesses that would ordinarily require a specialist, such as sports injuries and specific women's health issues.
Internal Medicine- In internal medicine, doctors focus on the well-being of adults by offering care in the areas of wellness promotion, disease detection, and chronic condition management.
General Practice- Practitioners of "general practice," also called "family medicine," are trained to care for patients of any age and gender.
Ask for Referrals
People are more likely to follow the advice of friends, family, and coworkers when choosing a primary care doctor in Los Angeles. You could inquire among your friends and family members about the medical practitioner they trust. If you already have a relationship with a doctor, dentist, or pharmacist, they can refer you to a female-specific specialist.
Think About Logistics
Find doctors with offices easily accessible from your home or place of work. You should also consider when the doctor is available to visit patients during office hours. Can you take time off to go to the office, or can you go before or after work or on the weekend?
Visit the Doctor
The only way to know if you've chosen the appropriate doctor is to go in for a consultation, and there's no substitute for meeting them face to face. Get to know the doctor and staff, and ensure you're at ease there. Discussing your current medications and medical history with your provider is essential to ensure you are both on the same page while managing long-term health issues. In addition, you should be able to put your trust in and rely on your primary care physician.
Insurance
An intelligent beginning point for locating a physician is to review your health insurance coverage. If your plan requires you to see a doctor within the network, begin by reviewing the list of participating physicians. You can also speak with your doctor if you need tips on the finest insurance policies.
Place a cold call
Calling a potential provider's office undoubtedly provides the initial impression of their practice. The phone manners of the office personnel reveal a great deal. You can take things to the next level by calling a Los Angeles primary care doctor you wish to collaborate with.
Keep your needs in mind.
A person's healthcare requirements vary significantly from those of another person, and they can change as a person ages. So, inquire about the provider's areas of expertise. For those who aren't athletes, a doctor who focuses on sports medicine is not the ideal option.
If you have diabetes, you may be looking for a doctor who focuses on treating people with diabetes or who sees a high volume of diabetic patients. You may wish to consult a geriatrician if you're experiencing several interrelated health problems due to old age.
How can a PCP help me?
Primary care doctors can often detect health problems before they become serious. In the long run, you can save time and money by sticking with a primary care provider. Your PCP will be your go-to medical expert for your life. In addition, they will understand when a hospital visit or the advice of an expert is required.
Many facets of your day-to-day existence and your medical history impact your health. Given these factors, a primary care doctor in Los Angeles will:
Help you make healthier decisions to prevent disease.
Ensure that your vaccinations are current to prevent diseases such as influenza.
Suggest diagnostic screenings to discover abnormalities before they become apparent.
Treat health issues that arise, such as an infection.
Support you in dealing with chronic health issues like diabetes and high blood pressure.
Read More; Primary Care Physician In North Hills Urgent Care Clinic
The Bottom Line
A vital part of receiving top-notch medical treatment is knowing where to look for a primary care doctor in Los Angeles, CA. Primary care physicians have the knowledge and training to screen you for health issues, administer vaccines, and conduct diagnostic testing. When searching for a primary care physician above tidbits may help you discover the ideal physician.
If you have any questions about our primary care services, please do not hesitate to contact us at (818) 839-5666 or Schedule an Appointment.