What Types of Services Does North Hills Primary Care Provide?
---
Home / Primary Care / What Types of Services Does North Hills Primary Care Provide?
October 26, 2022 | Category : Primary Care | Author: North Hills Urgent Care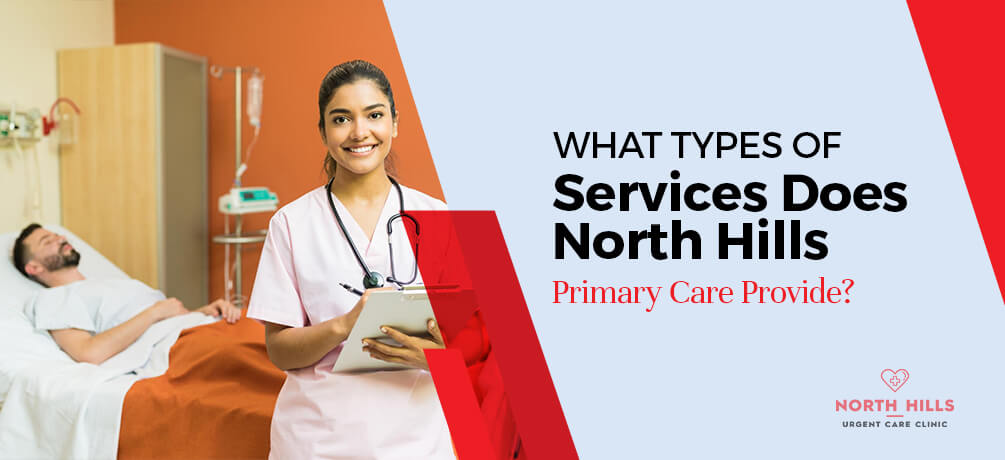 North Hills Urgent Care provides health care services managed by a primary care physician. Our primary care physician provides integrated, accessible, affordable healthcare services. We offer a long list of primary care services that cater to family or community needs. We personalize our primary care services to ensure that the community gets high-quality, affordable, and sustainable medical care. North Hills primary care services are vast, cost-effective, and professionally done to ensure that all our patients are well catered to despite their medical issues.
When to Visit North Hills Urgent Care for Primary Care?
If you have a minor injury or an acute illness, you must seek medical attention at North Hills Urgent Care. We have various medical practitioners who are always ready to cater to your medical emergencies that are non-fatal. These include medical assistants, physicians, nurses, nurse practitioners, radiological technologists, and front desk receptionists. Our physicians are always ready to provide various healthcare services to patients with minor healthcare issues.
Things You Didn't Know About Primary Care Services
Our primary care provider's primary health care services include procedures, diagnostic services, and treatments. Some of the North Hills primary care services include:
Treatment of Flu and Cold
Cold and flu are among the various diseases treatable at our clinic by our physicians. Some cold symptoms include a runny nose, congestion, and a sore throat. A cold and flu have almost the same symptoms. Therefore, it is hard to tell the difference. However, flu signs tend to be more severe than cold. Seek immediate help if you develop flu-related symptoms such as persistent fever, headaches, swallowing difficulties, and cough.
Mild Asthma
Symptoms of mild asthma contain shortness of breath, wheezing, and coughs. This type of disease is treatable by primary care physicians. You may get asthma at any age. It is necessary to visit our primary care physician at North Hills Urgent Care Clinic if you suspect experiencing asthma symptoms.
Treating Broken Bones
Our primary care physicians also treat patients who have broken bones and fractures. The injury and severity of the fracture or broken bones determine when and where to seek medical health. You can always count on North Hills Urgent Care Clinic for primary care services, including broken bones and fracture treatment.
Also, you can read: Primary Care Physician In North Hills Urgent Care
Treat Allergic Reactions
Medical practitioners at our clinic also have experience in treating allergic reactions. These types of medical conditions tend to be nasty depending on their severity. If you have ever experienced an allergic reaction, you know how irritating it is. You may seek medical treatment at our clinic if you are experiencing an allergic reaction.
Treat Sprains and Strains
You can also count on our primary care physicians for adequate medical attention if you have suffered a sprain or a strain. It is tough to tell the difference between these two medical conditions because they have almost the same symptoms. Our primary care physicians have sufficient medical knowledge to treat sprains and strains properly. They use the latest medical equipment to diagnose and treat medical conditions, including strains and sprains.
Pediatric Care Services
Primary care physicians with the medical expertise and experience to treat children of all ages are known as pediatricians. If you believe your child is sick or injured, you must rush to an urgent care clinic for proper treatment. Medical conditions that affect children are also treatable at our clinic.
Treat Burns and Injuries
All kinds of minor primary care health services that are not life-threatening are treatable at our clinic, including minor burns. Primary care physicians at our clinic have undergone extensive medical training that allows them to care for patients with minor burns. The first thing that our primary physician will do when treating a little burn is clean the affected area. After that, we will apply antibiotics to prevent infections.
Types of Primary Care Providers
Our primary care physicians are categorized into several medical practitioners. A primary care physician is the first point of contact in a health care system. They offer advice or primary care treatment based on a medical condition or physical injury. Medical practitioners include:
Internal medicine doctor
Gynecologist
Nurse practitioner
Geriatrician
Family practice doctor
Primary care physician
Obstetrician
Pediatrician
The primary care physician with extensive medical knowledge of patients' injuries and illnesses is a general practitioner. Since they treat everyone in the family, they have a vast knowledge of the patient's health, which is the most popular type of primary care physician.
Non-primary care physicians have different capabilities. That is because they concentrate on particular specialties in medicine.
Why Visit A North Hills Urgent Clinic For Primary Care?
One of the reasons you need primary care services from our medical facility is the health care it offers. We offer accessible and affordable primary care services. What makes us stand out is the extensive medical expertise that we employ when administering health care services. We focus more on providing time-sensitive healthcare services for minor conditions that may worsen if not treated immediately. Our patients are spared the hassle of waiting a long time to receive appropriate healthcare services.
The Bottom line
When seeking good healthcare services, you must ensure that you will get the proper medical attention based on your medical condition or injury. North Hills Urgent Care Clinic is a reliable healthcare facility for screening, diagnosing, and treating non-fatal medical conditions. Some North Hills primary care services include cancer diagnosis and treatment, chronic disease management, and diagnosis and treatment of minor physical injuries that we deliver at an affordable cost.
If you have any questions about our primary care services, please do not hesitate to contact us at (818) 839-5666 or Schedule an Appointment.